[Home | Our Calendar | Mission Statement | Contact Us | Hear Us | Our Chat Board | Become a Member | Newletter | Guest Book | Members Area ]/a>
Keystone Society of Swing performing at the Rowland Theatre, Philipsburg,PA 1995
The Keystone Society of Swing
is a group of serious musicians playing for the joy of recreating the sounds of the past and present. We range in age from 18 to 80 and our only rewards are to share our talents and have a great time.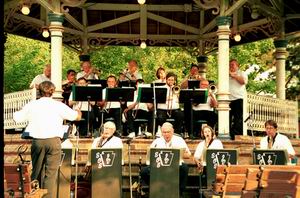 Bellefonte Concert in the Park Series, 2001
The band started out in 1985 with a few good ideas and a heart full of enthusiasm. Since then we have grown into a fully complemented swing band.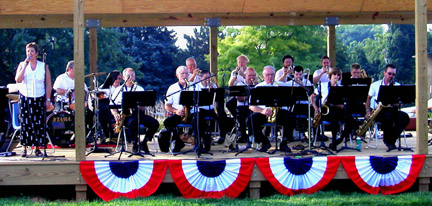 Concert at South Hills Concert Series State College,Pa 2004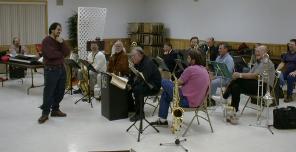 Rehearsal, Howard Pa
We have performed throughout the state of Pennsylvania in engagements varying from charity balls in Danville, concert series in Bellefonte, Renovo and Lock Haven, as a show band in the Capital theater in Williamsport, weddings fairs, parties, fund raisers (we're always glad to help out)...... You name it and we have probably been or will be there.
For a good time and a GREAT show, call us...
The Keystone Society of Swing is a nonprofit organization. All of our funds are used for our expenses , the purchase of new music, equipment, educational purposes and an occasional social event. We perform about 12 to 20 times a year and our calendar fills up fast. If you would like to book our band for an event, you can reach the Band Manager, Chris Beers, at:
Keystone Society of Swing
827 Boal Ave
Boalsburg, PA 16827
email: beers.christopher@gmail.com
phone: 814-769-9423

We look forward to hearing from you.

[Home | Our Calendar | Mission Statement | Contact Us | Hear Us | Our Chat Board | Become a Member | Newletter | Guest Book | Members Area ]